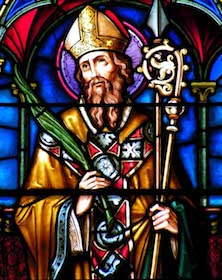 Adalbert (whose Czech name is Vojtech) was born in Bohemia around the year 956 and completed his studies in Magdeburg. Returning home, he became a priest and eventually the second Bishop of Prague in 983.
After expanding his diocese to include Moravia, Adalbert labored to eradicate pagan customs in it. A feud between rival political factions hindered his work, so he went to Rome and became a Benedictine at the Abbey of St. Alexis and Boniface.
Returning to Prague at the people's request, Adalbert found the same situation and went back to Rome. Heeding the call of the Polish Duke Boleslaw the Great, the Saint undertook to evangelize the Prussians. He met with fierce resistance and was martyred on April 23, 997.
PRAYER: God, You bestowed the crown of martyrdom on St. Adalbert, Your Bishop, who was animated by zeal for souls. By his intercession, grant that pastors may not be without their flocks' obedience nor flocks without their pastor's care. Amen.