VOLUNTEERS ARE PEOPLE WHO REACH OUT TO OTHERS AND IN SO DOING, BECOME EXTRAORDINARY.
THEY BRING JOY AND SUNSHINE AND SET AN EXAMPLE WHEREVER THEY GO.
THEY ARE TRULY A TREASURE!


One may say VOLUNTEERS have been in existence since beginning of time, the beginning of human existence. Volunteers do not receive pay for they do for others. They give joy, time, and give others a reason to be thankful that there is someone who cares about them, without counting the cost.
For years (since 1912 when our Sisters arrived in America) they always knew there was someone to help with little projects like driving sisters to doctors, hospital, going to the Strip District in Pittsburgh to receive donations of fruits and vegetables.
Sister Elizabeth was very grateful for those who helped her to bring them home to the sisters here in Elizabeth. We had volunteers to help farming on the property, bringing in the harvest, taking care of the animals, cooking the special and appetizing meals for everyone. They planted trees, grass, and flowers to make our property a beautiful place to pray and live.
At Divine Redeemer Academy, our high school, and boarding school, volunteers came from the families of our students; even today the families still help with our fundraisers now the Annual Flea Market. The ladies (parents) helped to ready the new Motherhouse built in 1959, making drapes, getting our new home ready for the sisters who lived and taught here as well as many schools in the area. Thanks God for them!
Volunteering today helps a great deal, since many of our aging sisters need help with just the simple things of life, like taking a walk outside or riding in a wheelchair around the beautiful grounds on a warm and sunny day, or bringing their grandchildren to visit and bring their little animals to visit. They bring joy to the elderly, the employees and the other sisters or even our other volunteers.
We have a group of ladies and who volunteer for phone duty and greeters in our front entrance. They invite visitors in and even direct them to visit our beautiful chapel and say a prayer or two while they are here. Some of them are men who also help with trips for the sisters. Many men with their sons help to clean up the grounds, shrines, gardens ... We have one man who has a special gift with photographing many of our events to help us in providing pictures for our sister and our history. His wife also is part of our camera crew.
What would we do without them? They bring joy, comfort, even goodies to our lives in our community. We even have some ladies that give of their time on weekends to help with the phone using their talents in crocheting, giving time to help groups that help the poor in our town. There is no limit to their giving.
We daily include in our community prayers intentions for our volunteers and benefactors. One of our sisters is very willing to remember our volunteers and associates with cards on their birthday, special events and even when they are ill.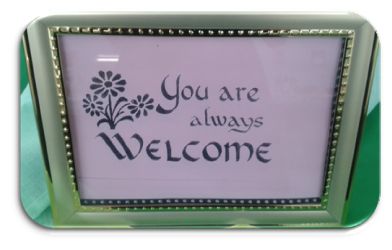 We also give thanks to them each year when we celebrate their gifts to us with a gathering so they can meet each other and share fun time together and share their experience with us.
Do what you can to show you care about other people, and you will make our world a better place.
VOLUNTEERS – "ALWAYS CARING – ALWAYS SHARING"
THE SISTERS OF THE DIVINE REDEEMER THANK ALL OF OUR VOLUNTEERS
Sister Rosemary, SDR