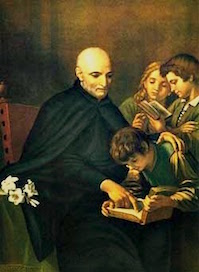 Patron of Students
Born at Peralta de la Sal in Aragon, Spain, in 1556, St. Joseph Calasanz became a priest. His reputation for sanctity inspired the Bishop of Lerida to appoint him as his confessor, theologian, and synodal examiner.
In 1592, the Saint went to Rome and became theologian to Cardinal Marc-Antonio Colonna. Here he joined the Confraternity of Christian Doctrine. He became so convinced of the necessity of imparting religious instruction to children at an early age that he began this work alone in the Trastevere, where he rented several rooms in which he opened a little school, teaching the children reading, writing, and arithmetic. After some time several companions joined him in the good work and he began to lead a community life with them. Thus, he laid the foundation of a congregation that in the course of time grew to be that of the "Clerics Regular of the Poor Schools of the Mother of God".
During the life of the holy founder his Order spread throughout Italy and afterward to other countries. By a brief of 1622 Pope Gregory XV approved the constitutions and appointed the holy founder General of the Order. The virtuous and austere life of this great servant of God came to an end on August 25, 1648. He was canonized in 1767 by Pope Clement XIII.
PRAYER: God, You adorned St. Joseph Your Priest with excelling love and patience so that he might labor for the formation of Christian youth. Grant that as we honor this teacher of wisdom we may follow his example in working for truth. Amen.