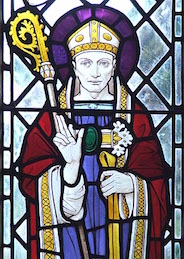 One of the greatest of the Welsh Saints, Samson was born about 490 and brought up in the Abbey of Llanwit, then ruled by St. Illtud. He was ordained and decided to increase his austerities, fervor, and prayer life. Retiring to another community in the neighborhood, he eventually became its Abbot.
However, the Saint was so struck by the superior leading of some Irish monks who paid him a visit that he accompanied them to Ireland and remained a considerable time, laboring for the faith. As time went on, the gift of miracles, which he already enjoyed, attracted so much attention that his humility could not tolerate it. Returning to is own country, he lived for a while as a hermit on the banks of the Severn.
The holy monk was consecrated Bishop by St. Dubricius and as the result of a vision crossed the sea to Brittany in company with other monks. With the aid of land given him, the saintly Bishop established a monastery aat a place later called Dol, which became an important Episcopal See. Hie influence can be gauged by the fact that he visited King Childerbert I to intercede on behalf of the dispossessed Breton ruler Judual.
St. Samson was a tireless traveler, great ascetic, and fearless monk who rendered innumerable benefits to his adopted country as well as a dedicated pastor who zealously looked after his flock. He died in 565 and was immediately honored in England, Normandy, and Brittany; later his cult spread to Italy.
PRAYER: God, by Your ineffable mercy, St. Samson proclaimed the unsearchable riches of Christ. Through his intercession help us to grow in the knowledge of You and faithfully walk before You according to the truth of the Gospel, filled with every good work. Amen.