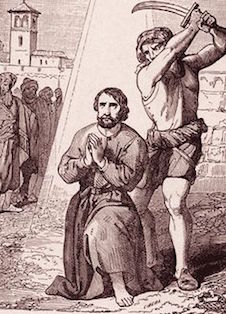 St. Eulogius belonged to a noble family of Cordova, which was then the capital of the Moors in Spain. Ordained to the priesthood, he was placed at the head of the most important ecclesiastical school in Spain, which then flourished at Cordova. His virtues, to which he joined assiduous fasting and prayer, gained for him universal esteem.
In the year 850, a violent persecution broke out against the Christians. As one who encouraged the Martyrs, St. Eulogius was cast into prison together with his Bishop and many priest. He wrote an Exhortation to Martyrdom for the virgins Flora and Mary, who were then beheaded on November 24, 851. These two Saints promised to pray for their companions, and six days after their death Eulogius and the others were freed.
The persecution continued and St. Eulogius became the support of the dispersed flock, encouraging a group of the Martyrs who were martyred in 853. He wrote their story, entitled Memoriam of the Saints, which is permeated by and ardent zeal and spirit of martyrdom.
In 858, it became St. Eulogius's turn to suffer for his Faith. A virgin named Leocritia (or Lucretia) of a noble family of the Moors was converted and sought his protection against her irate parents. He hid her among friends for a time, but eventually they were all discovered and condemned to death. St. Eulogius was beheaded on March 11, 859, and St. Leocritia four days later.
PRAYER: God of power and mercy, through Your help St. Eulogius has overcame the tortures of his passion. Help us who celebrate his triumph to remain victorious over the wiles of our enemies. Amen.