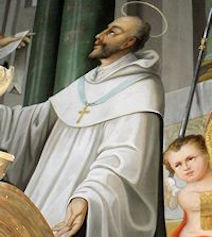 St. Stephen Harding was born at Dorset, England, early in the second half of the 11th century and was educated at the Sherborne Abbey. as a young man he traveled abroad and grew into a person of great charm and first-rate scholar. eventually, he became a monk at the Abbey of Molesme in Burgundy, where he came under the influence of the Abbot, St. Robert, and his zeal for reform.
In 1098, together with St. Robert, St. Alberic, and some twenty other monks of Molesme, St. Stephen founded a new monastery at Citeaux. Here they lived a life that was simple and austere, in accord with the letter of the Rule of St. Benedict. Upon St. Alberic's death in 1108, St. Stephen became the third Abbot of Citeaus and built up the community—undergoing many hardships because of his high ideals.
In 1112, St. Bernard arrived there with thirty of his followers, and the fortunes of the monastery took an upward turn. During the next eight years alone, a dozen Cistercian houses had to be erected to hold those who flocked to the ideals of the new community, and many more followed. In 1119, St. Stephen drew up the "Charta of Charity," which defined the spirit of the Cistercian Abbeys and provided their unity, and has become a most important document in the history of Western monasticism.
The Cistercian life is an accurate barometer of St. Stephen's character; its high ideals, careful organization, austerity, and simplicity mirror the traits of this great Saint who ruled the community for twenty-five years. In 1133, he resigned his office because of near-blindness and advancing age, and on March 28, 1134, he passed on to his heavenly reward. He was canonized in 1623.
PRAYER: Lord, amid the things of this world, let us be wholeheartedly committed to heavenly things in imitation of the example of evangelical perfection which You have given us in St. Stephen the Abbot. Amen.