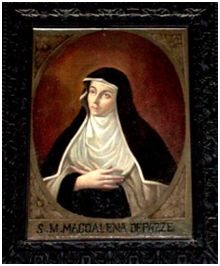 Born of a noble Florentine family in 1566, Mary became a Carmelite nun in Florence at seventeen. God favored her with the most wonderful graces, and she lived in that mysterious sphere to which many Saints have been raised, called the Extraordinary Way. She was also endowed with the spirit of prophecy. She found her vocation in prayer and penance for the reform of all states of life in the Church and for the conversion of all human beings.
The last three years of Mary's life were characterized by intense bodily and mental suffering, yet she prayed to suffer more, so great was her love for Jesus Christ Crucified. She died in May 25, 1607, shortly after Pope Leo XI, whose elevation to the papacy and subsequent death she had foretold. She was canonized in 1669 by Pope Clement IX.
PRAYER:
God, the lover of virginity, You conferred heavenly gifts on St. Mary the Virgin who was inflamed with love for You. Help us to imitate the example of purity and love given us by the one whom we honor this day. Amen.