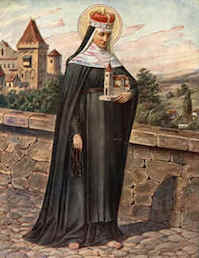 Born in Bavaria in 1174, Hedwig was the daughter of the Duke of Croatia. In 1186, she was married to Henry I of Silesia and Poland to whom she bore seven children; after the birth of her last child, and her husband vowed continence. She is best remembered for her great zeal for religion and her penitential mortifications, which led her to live a hermit amidst her husband's court.
St. Hedwig donated her entire fortune to the Church and the poor, and after her husband's death she entered the Cistercian convent of Trebnitz, which she had founded, among many others. She died on October 15, 1243, and was canonized in 1266 by Pope Clement IV.
PRAYER: Almighty God, may the venerable intercession of St. Hedwig obtain heavenly aid for us, for her life constitutes a wonderful example of humility for all. Amen.