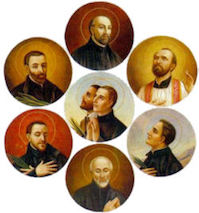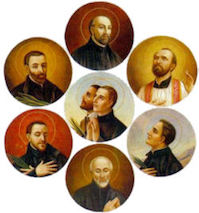 Sts. John de Brébeuf, Isaac Jogues and other six companions, French Jesuits, were among the missionaries who preached the Gospel to Huron and Iroquois tribes in the United States and Canada. They were martyred by the Iroquois in the years 1642, 1648, and 1649. Pope Pius XI beatified them on June 21, 1925, and on June 29, 1930, they were canonized by the same Pontiff.
St. Isaac Jogues, in particular, is outstanding. In the course of his labors preaching the Gospel to the Mohawks in Canada he penetrated to the eastern entrance of Lake Superior, one thousand miles inland and became the first European to do so. In 1642, he was taken captive by the Iroquois and imprisoned for thirteen months. During this time, he underwent cruel tortures and ultimately lost the use of his hand.
After being rescued by the Dutch, Father Isaac returned to Canada two years later, and in 1646 he visited Auriesville, New York, to negotiate peace with the Iroquois. He is said to be the first Catholic priest to have set foot on Manhattan Island.
On the Saint's third visit to the Iroquois, the Bear clan, which believed that "Blackrobe" (as he was called by the Indians) was a sorcerer, blamed him for an outbreak of sickness and the failure of their crops. Accordingly, he was seized, tortured, and beheaded.
PRAYER: God, You consecrated the spread of the Faith in North America by the preaching and martyrdom of Sts. John and Isaac and their companions. Through their intercession may the Christian Faith continue to grow throughout the world. Amen.