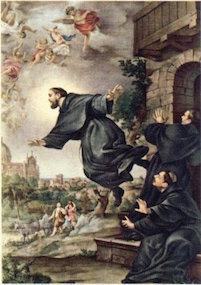 Patron of Aviators
St. Joseph was born at Cupertino, in the Diocese of Nardo in the Kingdom of Naples, in 1603. After spending his childhood and adolescence, he finally joined the Franciscan Friars Minor Conventual. After his ordination to the holy priesthood he gave himself up entirely to a life of humiliation, mortification, and obedience. He was most devoted to the Blessed Virgin Mary and promoted devotion to her among all classes of people.
It is said that the life of this Saint was marked by ecstasies and levitations. The mere mention of God or a spiritual matter was enough to take him out of his senses; at Mass he frequently floated in the air in rapture. Once as Christmas carols were being sung he soared to the high altar and knelt in the air, rapt in prayer.
The people flocked to St. Joseph in droves seeking help and advice in the confessional, and he converted many to a truly Christian life. However, this humble man had to endure many severe trials and terrible temptations throughout his life. He died on September 18, 1663, and was canonized in 1767 by Pope Clement XIII.
PRAYER: God, You willed that Your only-begotten Son should draw all things to Himself when He was lifted up above the earth. May the merits and example of St. Joseph, Your Priest, help us to rise above all earthly desires so that we may come to Jesus. Amen.