"Obey with courage and confidence the inspirations of grace."

Venerable Mother Alphonse Marie
About forty people responded to the invitation of the Sisters of the Divine Redeemer and attended Sunday Holy Mass on
February 4, 2018
followed by coffee, donuts and a Consecrated Life Skit.
Those who joined us had an opportunity to see and hear one of the many ways God's call to His service. What people experienced today?
Today, we recalled the vocation of Samuel, the Prophet of the Old Testament, which is a prototype of the vocation to the Consecrated Life. Samuel was sleeping in the temple of the LORD where the ark of God was. The LORD called to Samuel three times, who run to Eli, thinking that Eli called him. Samuel always answered, "HERE I AM LORD". He was not tired to run to Eli, even though he always heard the same answer, "I did not call you". Finally, last time, Eli adwised Samuel do not run to him but to answer, "Speak, Lord, for your servant is listening."
How wise answer! Do not run, just listen. Open your heart and the Lord will reveal His presence and His will to you. "You are my servant whom I uphold, my chosen one with whom I am pleased, upon whom I have put my spirit. I, the LORD, have called you for the victory of justice. I have grasped you by the hand. I formed you, and now I call you to my service" said the Lord to Samuel.
HERE I AM LORD, was the answer of every Sister and Priest called by name. In gratitude for God's grace, our Vocation, we sang the song "You have called us by our name, we belong to You. You have called us by our name and we are Yours."
We have heard God's call long time ago and we already grew up in God's service. We feel that God is with us even though many difficulties in our lives. You know us as the Sisters of the Divine Redeemer. Thank you for being our friends and joining our celebration of Consecrated Life.
Lord God Almighty, thank You for having called us to Your service. Thank you for our Community and sisterly love. Bless us and these who are with us now, and bless also those who we will meet in the future. Grant us Your grace to be faithful in Your service. Bless families because they are the heart of new vocations. Bless all people of good will. AMEN.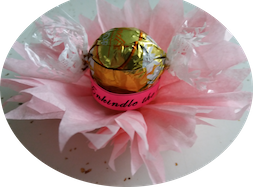 Then, all present prayed for Consecrated persons. At the end, the Sisters shared small gifts with the mission: "Enkindle the world with LOVE".