On October 30, 2016, twenty Associates and some new members gathered together at Motherhouse of the Sisters of the Divine Redeemer. There was a talk on the revelation of mercy in redemption which invited all of us to remember God's great love and mercy.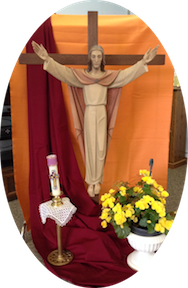 Redemption involves the revelation of mercy in its fullness.

"What was the price of our redemption?" "How great is the mercy of God?" These questions leads us to think what we were, what we are, and what we shall be. They show us the mercy and the justice of the Lord, the joys of heaven, and the pains of hell.
The instructions which Mother Alphonse Marie gave her followers were full of invitation to trust and hope. She said, "You shall put all your trust in Divine Mercy and the merits of Jesus Christ, our Divine Redeemer." You may go to the same source and make your plea in the name and merits of Jesus, and you will not plead in vain. We were slaves to sin, condemned to eternal separation from God. In His great mercy, Jesus paid the price to redeem us, resulting in our freedom from slavery to sin and our rescue from the eternal consequences of that sin.
The genuine face of mercy has to be ever revealed anew. Because of intolerances, mercy seems particularly necessary for our times. Thank you, Holy Father, Francis, for this Jubilee Year of Mercy.
As Mother Alphonse Marie laid all of the children entrusted to her at Jesus' feet and asked blessings and graces for them we should also do this and place not only our children and grandchildren, but all who are entrusted to us as well as those who ask us to pray for them and those for whom no one pray, into God's care. We should often pray for healing of our wounded families because pride, self-love and selfishness often divide them.
Mercy and redemption is manifested by joy, discretion, openness, the ability to discover what a person needs, as well as a great sensitivity to needs, desires and mood of another person. The program of our life is to make visible the merciful and redeeming love of Jesus Christ.
There was an opportunity for Associates to renew their promises and for three new members to make their promises.
The celebration, words and following adoration refreshed us spiritually to go and live merciful and redemptive love.