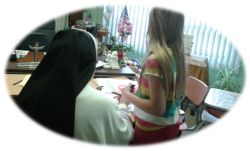 One of our Charisms is to evangelize and I, Sister Mary Ann, SDR take it very much to heart to tutor students at their time of request.
Presently, I am tutoring twin brothers who need assistance in all the Language Arts. Each weekend I have the joy of tutoring and teaching blood sisters, age 6 and 9.
Challenging the children through a holistic approach, several subjects are included. The students love coming to see the Sisters, visit the Chapel and feel very happy and peaceful.
My other duties are of Service to whatever I am asked to do, such being a receptionist in the evenings, decorating bulletin boards for the seasons (brings cheer) to the Sisters. Sending cheer for birthdays and illness, congratulations to our volunteers, associates, deanery priest, employees. On birthdays & feast days of the Sisters, their place at table is prepared to greet them on their occasion. Each act of service is offered up for the release of souls from purgatory.
I love what I am doing!
On Sunday morning I teach Faith Formation to whatever grade is in need of a teacher at St. Michael Parish…
I make an effort to offer all my teaching as a response to our Holy Father who urges us to Evangelize and brings souls back to the church.
Sister Mary Ann, SDR