"In Him we have redemption through His blood, the forgiveness of sins, according to the riches of His grace"
(Eph 1:7).
The celebration of the Feast of the Divine Redeemer took place on Monday, October 23rd. There was one day for the spiritual preparation.
On Sunday October 22nd, there was exposition of the Blessed Sacrament at the end of the Holy Mass. The Sisters and lay people spent all morning in adoration before the Blessed Sacrament on the Altar. In silence, they expressed their gratitude to God the Father and His only Son, our Redeemer, and the Holy Spirit for the grace of redemption.
In the afternoon there was interesting entertainment. A folk group came to our Motherhouse and under the direction of Mrs. Angela Lipchick presented Slovak folk songs, dances and traditions. It was amazing to see little children sing, dance, and play instruments.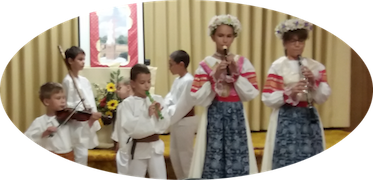 On Monday, the solemn Morning Prayer was said followed by solemn Holy Mass celebrated in honor of the Divine Redeemer. In the afternoon we were spiritually refreshed by the words of our Superior General. Later we prayed the Rosary in common and stayed in silent adoration until the solemn Vespers.