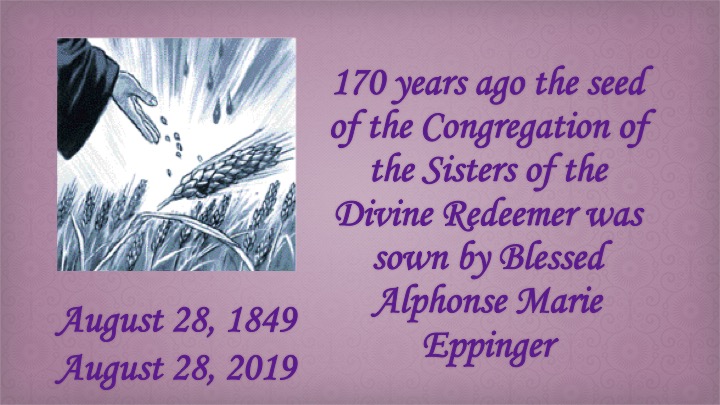 On Sunday, August 25, 2019, the American Region celebrated the 170th Anniversary of the Founding of the Congregation of the Sisters of the Divine Redeemer. Our celebrant for this Mass was Bishop William Waltersheid who set the tone for a very joyfilled Celebration. Sister Alojziana greeted the congregation with a "Welcome" before the Mass began.
At Mass there were two different readers -- Sr. Anne and lay woman Mary. Sr. Joanne gave the Intercessions. The Offertory Procession was consisted of people who really knew our community and they presented these gifts: a sheaf of wheat, a special candle, our Holy Rule Book with the cross attached to it, the hosts, and wine cruet. Our small choir of Sisters sang the Mass with the entire body of the church singing. It was beautiful singing.
Bishop Waltersheid commented at the end of Mass that "Mother Alphonse Marie was really truly present" and he said "you can feel her walking down the main aisle."
A Reception was held in the Sister's Dinning Room, and it was crowded.
What a joyfilled day!
Sister M. Anne, SDR