Sunshine morning on August 9, 2020, brought us an endless joy, when our three Sisters celebrated their jubilees: Sister M. Celestine her 75th anniversary, Sister Mary Ann her 70th anniversary, and Sister M. Anne her 60th anniversary of Religious Profession.

Let's meet them:

SISTER MARY CELESTINE BACSI, SDR

75TH ANNIVERSARY

Sister Mary Celestine, born in Lorain, Ohio, spent many years ministering at her home parish, as primary-grade teacher; principal; and later, as moderator of the Senior Center.

Sister´s early years were spent teaching in the Cleveland area and in the Pittsburgh Diocese: at St. Bartholomew´s in Penn Hills; at St. Rita´s in Whitaker; and at St. Stephen´s in McKeesport.

Sister has a special concern for priests and bishops; for the missions, particularly with native Americans, and with the people in New Guinea being served by the Capuchin Franciscans.
With a talent for creating fine handcrafts, Sister brings joy to others and uses the profits to support her charitable causes.
She also shared this talent with the residents of our personal care home near Philadelphia, Villa St. Teresa, helping them create beautiful handmade items.

Even after retiring to the Motherhouse, Sister Celestine would surprise the Sisters at the times and prepare favorite Hungarian dishes and desserts.

Also, she would send uplifting articles/ stories to her shut-in friends each month. Another important support that Sister Celestine offers for countless persons and causes is the payers that she offers for them!
See also

Happy Anniversary, Sister Celestine!
SISTER MARY ANN DUJANOVIC, SDR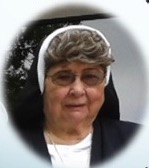 70TH ANNIVERSARY

Sister Mary Ann was baptized at Holy Trinity in Barberton, Ohio, where much later she taught for four years as a Sister of the Divine Redeemer.

Sister taught for a total of 66 years, mostly in the Pittsburgh Diocese … more recently, in tutoring and homeschooling. During these years Sisters also taught in the parish religious education (CCD) program.

Some of her early years were spent at: St. Michael's in Elizabeth; St. Stephen's in McKeesport; and St. Paulinus in Clairton; and, a total of 30 years at Dt. Bartholomew in Penn Hills. Often, Sister Mary Ann recalls, with a chuckle, one of her "children stories".

Sister's "retirement" is anything but that. She works at the front reception desk; continues to tutor; decorates the many bulletin boards around the Motherhouse; is our "sunshine person" for Birthdays, Namedays, and for those who are sick. She willingly accepts extra tasks in the Community that need to be done. Sister supports many with her compassion and prayers, including her family.

A special surprise:
One day Sister Mary Ann realized that the man who began attending daily Mass in our Chapel on his way to work was one of her First Graders at St. Bartholomew, in Penn Hills – all grown up!
See also
Happy Anniversary, Sister Mary Ann!
SISTER M. ANNE ANGELCYK, SDR

60TH ANNIVERSARY

Sister Anne taught at St. Bartholomew School in Penn Hills for 5 years, but most of her years in education were spent teaching Business Education in high school: Bishop Boyle in Homestead; Sacred Heart in Pittsburgh; Serra Catholic in McKeesport and Lake Catholic in Mentor, Ohio.

Sister Anne embraced each change of assignment in ministries in a spirit of Obedience, trust, and a positive attitude. One such move was to our hospital in South St. Paul, Minnesota, where Sisters was secretary to the Director of Nursing and Superior of the Religious Community there.

Later, when the need arose, and after the proper preparation, Sister Anne assumed responsibility for our personal care home near Philadelphia, where she was Administrator, working with the staff and residents there for 17 years.

As Sister's own mother advanced in years and needed help, Sister Anne assumed the responsibility, and privilege of caring for her mother for 9 years. (The last 2 years Mrs. Angelcyk lived at our Motherhouse.)
Inspired by her mother and grandmother, Sister Anne sewed many quilts with the Amish doing the final, quilting stitch. Her most recent one (red and orange poppies with a green border) was raffled off and the profit given to her home parish, Holy Family in West Newton, Greensburg Diocese, to help with roof replacement.

Often Sister Anne offers ideas/suggestions to add a special touch to the project at hand. A cause dear to her heart is Vocations to Religious Life and to our Community, and served for several years on the Greensburg Religious Vocation Council.

Early each morning Sister Anne can be found praying in the quiet of the Motherhouse Chapel where she receives the spiritual energy to meet the day ahead.
See also
Happy Anniversary, Sister Anne!